Flexible Friday Breakfast and Lunch Order Form Click Here
Join Us For a Fun Filled Family Night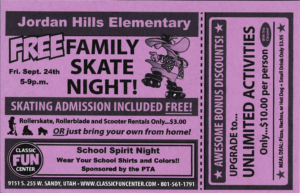 If you are interested in having your child attend virtual elementary for the 2021-2022 school year, click here to see more information about the
Jordan Virtual Learning Academy

Virtual Back to School Click Here
Meet Your New Principal Mr. Yates Here
Jordan Hills Elementary,
My name is Kaleb Yates and I would like to take a moment and introduce myself as your new principal. I have already received warm welcomes from many of you. Jordan Hills seems to be such a kind place where a lot of great learning is happening!  
Here are a few things about me. I am married and have 4 children. My wife's name is Heather Raye and my kids' names are Jenna, Daxton, Tate and Walker. We often call them, "Jenna Lee, Super Dax, Tater-Tot and Walker The Squawker!". Their ages are 12, 7 , 4 and 2. We also have a dog named Duke. We call him Duke because I am a HUGE John Wayne fan! I like to fish, camp, hunt, snowmobile, and ride motorcycles.
I have taught in the following positions, preschool, third grade, sixth grade, instructional coach, and assistant principal. For the last few years I have been an Assistant Principal at Herriman Elementary, Midas Creek Elementary and Parkview Elementary. I have degrees from The College of Eastern Utah, Utah Valley University, and The University of Phoenix. I love being an educator and working with students, parents and teachers!   
I look forward to meeting you around the school. I look forward to our learning together as we start the 2021-2022 school year. I have an open door policy so if you would like to visit with me in my office, know that you are always welcome.  I am extremely excited for you to be a Bear Cub!
Sincerely,
Mr. Yates