PICTURE DAY IS THURSDAY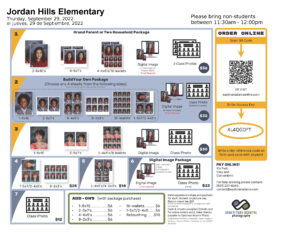 You will need this access key:
XL4QGDFT
to order.
---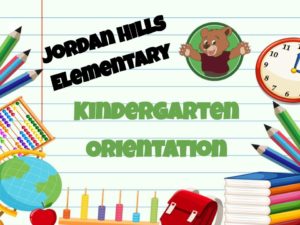 KINDERGARTEN REGISTRATION GOING ON NOW!!
If you have a child that will be 5 years old on or before September 1, 2022, please register online here, then bring your student's birth certificate and immunization record to our main office! We look forward to all our new Bear Cubs!!
2022-2023 School Choice Permit window is now open!
http://permit.jordandistrict.org
http://permiso.jordandistrict.org
---
Meet Your Vice-Principal: Mrs. Grant
Wonderful Jordan Hills,
I would like to introduce myself to you. I'm Lynsey Grant, your new assistant principal, and I couldn't be happier to be at Jordan Hills this school year. This will be my eighth year as an educator with seven years as a third-grade teacher at Oakcrest Elementary. I am happily married and have three pets; a sweet-hearted Australian Shepard and Soft-coated Wheaten Terrier, Nova, a shy tuxedo cat, Chloe, and a rambunctious tabby, Olive or Ollie for short. My husband and I love to travel and visit new places, either stateside or out of the country. You can find me reading, singing, or dancing in my free time. I went to school at the University of Utah and Brigham Young University, so you could say purple runs through my veins.
I have an open-door policy, so please visit or talk to me anytime. I am incredibly excited to be a bear cub and am thrilled for the opportunity to get to know all the wonderful bear cubs in and outside the building.
Here's to a great school year!
Mrs. Lynsey Grant
lynsey.grant@jordandistrict.org
---
Meet Your Principal: Mr. Yates
Jordan Hills Elementary,
My name is Kaleb Yates and I would like to take a moment and introduce myself as your new principal. 
Here are a few things about me. I am married and have 4 children. My wife's name is Heather Raye and my kids' names are Jenna, Daxton, Tate and Walker. We often call them, "Jenna Lee, Super Dax, Tater-Tot and Walker The Squawker!". Their ages are 13, 9 , 6 and 4. We also have a dog named Duke. We call him Duke because I am a HUGE John Wayne fan! I like to fish, camp, hunt, snowmobile, and ride motorcycles.
I have taught in the following positions, preschool, third grade, sixth grade, instructional coach, and assistant principal. For the last few years I have been an Assistant Principal at Herriman Elementary, Midas Creek Elementary and Parkview Elementary. I have degrees from The College of Eastern Utah, Utah Valley University, and The University of Phoenix. I love being an educator and working with students, parents and teachers!   
I look forward to meeting you around the school. I look forward to our learning together as we start a new school year. I have an open door policy so if you would like to visit with me in my office, know that you are always welcome.  I am extremely excited for you to be a Bear Cub!
Sincerely,
Mr. Yates